hasyourbabyarrivedyet.com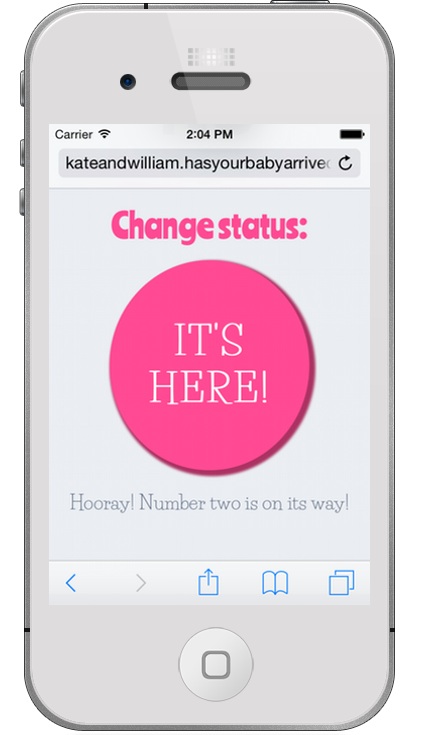 What it is
hasyourbabyarrivedyet.com is a simple service that stops your friends and family having to repeatedly ask you "Has your baby arrived yet?". It gives you a personalised web page that clearly and boldly states "NO" or "YES".
How it works
Start by signing up, and then log in from your mobile up to 90 days beforehand – it will remember who you are!
Then just return to the page, hit the button, and get on with your feeding / changing / cuddling / sleeping duties, safe in the knowledge that no one will have to bother you to find out your news.
Don't forget to tell all your friends!!!
Keeping it simple
The last thing you want in the first hours of being a parent is to have to log in somewhere and do something complicated.
So hasyourbabyarrivedyet.com is designed with ease and simplicity in mind.
Our R&D department developed the "IT'S HERE BUTTON": your one, simple action to change the status on your page.
Notes and details
[coming soon!] You can optionally add a note to record the name, sex, weight, time, date, etc. And more sophisticated, but equally simple, options are on the way.
Sharing
[coming soon!] There are simple sharing options letting you post your status to popular social networks. We'll try to make this even easier in future updates.
What's with the pink?
I spent a long time choosing the pink to be a bright, fun, happy colour that represented babies in general rather than girls specifically.
But because for many pink is associated with girls, I've created colour schemes for your page. From an equally-bright-and-fun shade of blue, through to a selection of colours that could be considered gender-neutral.
The choice is yours!
Who are you?
I'm Ross, and I run a little web development and technology consultancy called Oikos that focusses on the charity sector. I tweet as @magicroundabout. If you like hasyourbabyarrivedyet, why not pop over and say "Hi"?